Goodbye "Real Estate Beige," Hello "Colors That Pop!"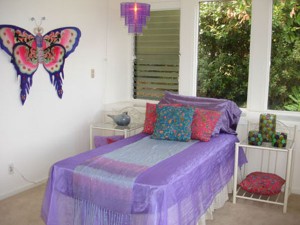 If you are a realtor or owner with a property on the market for sale, you've probably heard what used to be some sort of rule from Real Estate Sales 101: keep it neutral, keep it beige.
Staging and decorating our homes in the Hawaiian Islands is all but beige. We invite into our homes the tropical greens of Monsterra leaf and Lawae Fern; reds of Hibiscus, Torch Ginger and Haleconia; yellows of Plumeria and golden sunsets; and blues of the timeless ocean and sky.
Wander into a model home for sale—whether it's a beachfront multi-million dollar home, or an eclectic condo close to downtown Honolulu—interior designers and decorators are evermore using colors that pop. We see colors of fuschia and neon lime, to the rich and luxurious tones of orange and gold, boldly splashed on the walls of our living space.
A balance of color, texture, lighting, furniture, art and accessories that highlight the highest potential of the home is what's in vogue. There is no wrong or right if you've got the right balance.
The only element that may still remain beige or neutral in today's dynamic real estate market, is the carpet underfoot. Goodbye real estate beige, hello colors that pop!